Tulsi, alevera and marble plants should be grown in the premises of the house. Deng is also an effective medicine for diseases like chickenpox. This makes the atmosphere even cleaner. Yogaguru Baba Ramdev has said that if the polluted atmosphere of Delhi is to be done away with, it should be done first.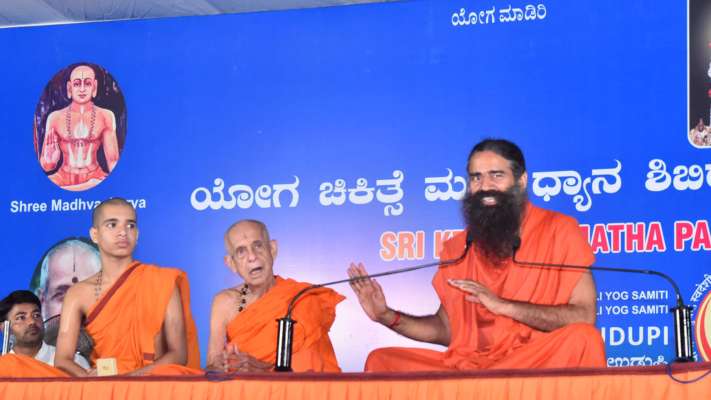 He was speaking at the Yoga Camp on the second day of the second day of the day in the parking lot of the Sri Krishna Math, under the auspices of the Alternative Palimaru Math and the Patanjali Yoga Peetha Trust of Haridwar.
Lifestyle should be changed. Better to eat at seven o'clock at night. But you must not eat after eight o'clock at night. Reduce the amount of rice and wheat and increase the consumption of vegetables. Drink three liters of water daily.
More time is devoted to Yogasana and Pranayama practices than on other days. It is not okay to prefer sleep and outdoor diets because of the holiday. They should reduce the amount of food that everyone eats, he said.
Candles should be worn on birthdays instead of candles. Khanduri, who was the chief minister, solved the problem of eye problems by giving the sun a fair gift. It is science to water the basil plant with radiation and give the sun its worth. Vitamin D deficiency will not be tolerated if Balasuriya stays in the sun for hours.
Speaking at the inauguration of the second day of the program, Sri Vishwashetha Tirtha Swamiji said, "Yogasana is beneficial for the concentration of mind, physical hygiene and health.
Ramdev and Pejavar Swamiji have released the book 'The Mystery of Ayurveda Doctrine', translated by Annapurna, wife of Mahabaleshwar, managing director of Karnataka Bank.
Shrividyadasarthirth Swamiji, the youngest Yeti Srividyarajeshwara Theertha Swamiji, the youngest Yeti Srividya Prasanthithar Swamiji were present.
Former Minister Pramod Madhvaraj, Karnataka Bank Assistant General Public Receptionist Srinivasa Deshpande, Gopalakrishna Samaga, Patanjali Samiti Gyaneshwara Nayak, Karamballi Shivaram Shetty and Shankar Shetty were present. Sujata Marla, the women's leader of Patanjali, welcomed.
A decent Karnataka project
A project called Yoga Maya Karnataka will be launched with the aim of making the state of Karnataka sick Baba Ramdev said it needed skilled yoga teachers and trained the interested.
He said that diseases such as diabetes, BP, and thyroid can be cured by life-threatening illnesses such as Kapalbhati, Bastrika, Anuloma inversion and hallucinations.